Shiskine
Golf

Club

- Isle of Arran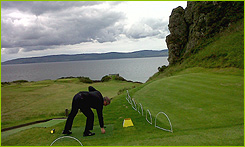 The beautiful Ayrshire Island of Arran offers many delights some of which are the seven golf courses positioned at various points throughout the Island.
One of these golf courses is SHISKINE GOLF CLUB which is unusual in the fact that it only has 12 holes but which in no way detracts from the challenge of this outstanding scenic Ayrshire Golf course. It is often mentioned in the "top 100" golf courses in the UK and in 1997 it reached a high point when Golf Monthly magazine placed it 77th in the best courses in the UK and Ireland.
It is situated on the West Side of the island and is a total links golf course commanding stunning views at every part of the course over to the Mull of Kintyre. It is indeed one of the many Ayrshire golf courses of outstanding beauty.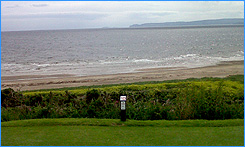 The first hole runs straight along the beach and any wayward drive to the left will find you "playing from sand" probably quicker than you intended. The par 3 fourth is probably the signature hole of the course with an elevated tee and magnificent views across the sea. Although it may be a short course, every hole offers a different challenge and at the end of your round you will be welcomed into the new inviting clubhouse where you will be able to sample the many delights of home baked Scottish cuisine.
Golf Ayrshire recommends that you visit the Isle of Arran and place SHISKINE on your "must play" list
Golf Ayrshire will be delighted to include Shiskine as part of your Ayrshire Golf Holiday and for more information please E-mail us at: enquiries@golfayrshire.com (please include your daytime and evening phone number) or please use the details on our "contact us" page.
"a company run by golfers for golfers"