Rowallan
Castle

Golf

Club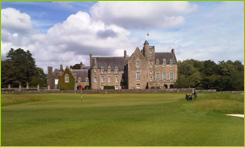 Set amidst the splendour of the grounds of Rowallan Castle and the rolling Ayrshire countryside, Rowallan is indeed a gem of a course. Designed by Colin Montgomerie, Rowallan has only recently opened in 2010 and is already attracting very favourable reviews from golfers who have already played this very impressive course.
Rowallan is an excellent but fair test of golf, although wayward shots from the tee are not really recommended as the rough can be very punitive. Although the rough can be heavy, the Fairways on all the holes are very generous and this will appeal to golfers of all levels and handicaps. Another feature of the course are the stunning views on most holes of the beautiful and scenic countryside (indeed on some holes on a clear day the Isle of Arran can be seen with the mountain of Goatfell towering in the distance). All the greens on the course are also kept in pristine condition with a few tricky borrows on some holes.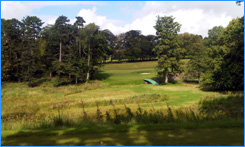 With the potential to be one of the best courses in Scotland, every hole is different and a lot of thought and planning is required to negotiate your way round some of these excellent holes. The course also has five par 3's and each one has its own different and unique challenges.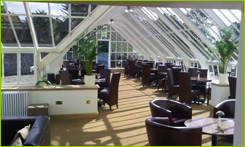 The castle is very much a feature of the course and acts as a stunning backdrop to the 18th hole. Another unique feature of Rowallan is that it actually has a 19th hole where tied games can be played and decided. The other "19th hole" is also very welcoming and has an impressive glasshouse effect with views looking over the golf course and castle. Of course Scottish beers and whiskies are also in plentiful supply.
Within easy travelling distance of Ayr, Prestwick and Troon, Golf Ayrshire highly recommends this course as one of your venues for any of your golfing holidays in Ayrshire.
For more information on Rowallan Castle Golf Club please either E-MAIL us on enquiries@golfayrshire.com or fill in the contact form on the "our packages" page If possible please also leave a daytime or evening contact number.
"a company run by golfers for golfers"