Ramada
Jarvis
Hotel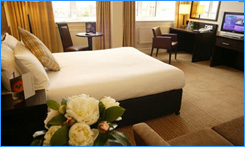 The Ramada Jarvis Hotel in Ayr is an ideal base for any golfing holidays in Ayrshire, as it is located right in the centre of Ayr and walking distance from all the main bars, restaurants etc. It is often quoted as being the best hotel in Ayr and prides itself on being the preferred choice for golfers.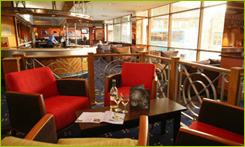 Golf Ayrshire recommends this hotel as it has everything you would expect from an International Hotel Group. It has 118 rooms all en-suite with all the latest media entertainment and high speed Internet access, along with a modern bar, restaurant and 24 hour room service. it also has a new golf simulator where you can play 50 of the top courses in the world.
After a relaxing round of golf you can take full advantage of the Sebastian Coe Health Club which boasts a gym, swimming pool, sauna, steam room and spa.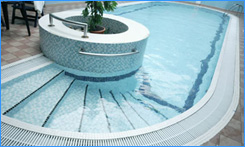 The location of the hotel is also ideal for any golf tours in Ayrshire as it has 22 golf courses all within a 20-mile radius and some of the golf course in Ayrshire are only about a 5-10 minute drive from the hotel. For the non-golfer in the party all of the attractions of Burns Country are within a very easy reach. Also Glasgow is only 40 minutes drive or by train, and Edinburgh is about 90 minutes travelling distance. We at Golf Ayrshire will be delighted to organise any excursions required by both golfers and non-golfers
For more information on this hotel as a base to stay for your Ayrshire golf holidays, please E-mail us at: enquiries@golfayrshire.com (please include your daytime and evening phone number) or please use the details on the "contact us" page.
"a company run by golfers for golfers"