Golf Ayrshire will be delighted to help you Tailor Make your golfing package to suit all levels of golf competence and budgets. Please fill in the form below giving us as much information as possible and we guarantee one of our representatives will contact you within 24 hours.
We will then talk you through your golfing holiday and answer all your questions on both golf courses and accommodation. We will then be able to recommend the best golf courses to play which would suit all members of your party and also recommend the best hotels that will satisfy your party's budget.
You may even decide to take a two centre holiday as our sister company www.golffife.com can easily arrange tee times and hotels in the wonderful golfing county of Fife, where we can arrange deals to play on the famous courses that this famous golfing county has to offer. Within a 90 minute drive from Ayrshire you could be on the tee at the Old Course, Kingsbarns or Gleneagles or any other Fife course.
We at Golf Ayrshire look forward to providing you with a totally memorable golfing holiday. Just tell us your requirements and we will organise your whole package from tee times, accommodation, transport and excursions.
Powered by

EMF
Contact Form
Special
Offers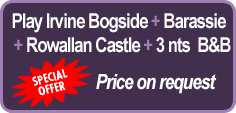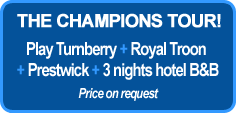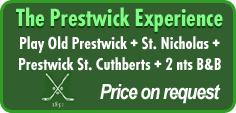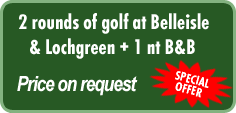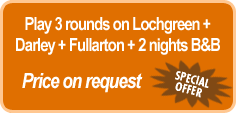 These are only sample tours, we provide a tailor made service to suit all budgets.
Please email us and customise your own tour.
Please Note: All packages are for Monday to Friday, based on 2 people sharing a room.
The price will increase at weekends and will be subject to weekend availability.
"a company run by golfers for golfers"