Golf Ayrshire Trips & Excursions
If you and your party decide to take a day off golfing during your golf holiday in Ayrshire why not consider one of the wide selection of day trips available through Golf Ayrshire. Ayrshire is ideally located to explore the many attractions that the West of Scotland and Ayrshire has to offer. You may decide to visit the cosmopolitan city of Glasgow and view the Burrell Collection, appreciate the city's Rennie McIntosh architecture, take a trip round the football grounds of the famous Glasgow Rangers or Glasgow Celtic, or maybe prefer a leisurely day visiting the Bonny Bonny Banks of Loch Lomond. All this is within a very short journey of your hotel in Ayrshire.
We can also offer a very interesting whisky tasting excursion where you can taste and enjoy the various whiskies that are on offer. This excursion is definitely a whisky connoisseurs delight.
Golf Ayrshire can also organise a day trip to Edinburgh, the scenic and beautiful capital of Scotland. Edinburgh is steeped in history and culture and is one of the most famous and visited cities in the world. A trip round Edinburgh Castle or a tour round the many museums is highly recommended. Even just a walk along Princes Street or George Street will help you appreciate the beauty of this majestic city. Again all these sights in Edinburgh are only over an hour's journey from your hotel.
Spouses & Partners
We realise that some parties will be bringing their spouses or partners with them and whilst you are playing golf we will organise any trips or excursions that may appeal to your wife/ husband or partner. Just tell us how they would prefer to spend the day and we will plan organise and arrange it.
Things to do and see

AYR FLOWER SHOW
Usually held the first weekend in August in Rozelle Estate Ayr. Rozelle Estate boasts beautiful gardens and displays from the very best of British Horticulture.
www.ayrflowershow.org
---
AYR RACES

With 28 meetings through the year Ayr Races guarantees a great afternoon racing. It also proudly hosts the Scottish Grand National and the very prestigious William Hill Gold Cup festival which is run in the middle of September.
www.ayr-racecourse.co.uk
---
Step aboard Waverley for a Great Day Out! Magnificently restored with towering funnels, timber decks and gleaming varnish and brass – see & hear the mighty engines turn the ships famous paddles!
Sailing June 25 until August 30 from Ayr, Largs & Girvan - Steam round Ailsa Craig - Explore Islands - Arran; Cumbrae & Bute: or relax on deck as you cruise amidst dramatic loch scenery.
---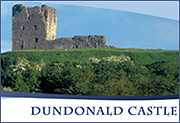 DUNDONALD CASTLE
Situated about 3 miles from Troon, Dundonald Castle was built for Robert 11 who was the grandson of Robert the Bruce. Visitors can enjoy the visitor centre at the bottom of the hill from the castle, where they can enjoy a cafe and souvenir shop and learn more about the castle's history.
---
AYRSHIRE COASTAL PATH

Ayrshire has some stunning coastal walks which can be enjoyed all year round. The coastal path has been divided into two sections North and South and runs between Skelmorlie in the North and Glenapp in the south. More information can be obtained from the book--Ayrshire Coastal Path, the official guide book.
---
DEAN CASTLE

Situated in Kilmarnock, Dean Castle and country park is considered one of Ayrshire's greatest free family attractions. Built in the 14th century it was once home to the powerful Boyd family and has connections with William Wallace and Robert the Bruce. Take a free guided tour or explore the surrounding 200 acre country park.
www.deancastle.com
---
SCOTTISH MARITIME MUSEUM

The Scottish Maritime Museum based in Irvine gives a fascinating insight into the Scottish seafaring heritage. Based at the harbour in Irvine it features an impressive range of exhibits and collections from maritime history from the 18th century onwards.
www.scottishmaritimemuseum.org
---
ROBERT BURNS MONUMENT CENTRE

Based in the Kay Park, Kilmarnock visitors and locals alike can access a wealth of information from this new £5M centre. It provides information on births, deaths and marriages going back to 1855. It is the a "one stop" centre to team up genealogy, registration, archives and library all under one roof.
www.burnsmonumentcentre.com
---
CULZEAN CASTLE AND COUNTRY PARK

No visit to Ayrshire is complete without visiting the very famous Culzean Castle. Situated near Turnberry, this 18th century castle has superb views over the Firth of Clyde and has over 600 acres of woodlands and gardens. The building features an oval staircase as well as an impressive collection of paintings and furniture. General Eisenhower spent time here during the war and the Eisenhower apartment on the top floor is available for anyone to enjoy a short stay.
www.culzeanexperience.org
---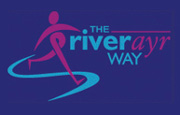 RIVER AYR WAY
The river Ayr way is now one of Scotland's major walks and follows the River Ayr for 66km from it's source at Glenbuck (birthplace of the famous football manager Bill Shankly) to the seafront at Ayr. The scenery along the walk can be breathtaking and it is not necessary to walk it all at once as it can be divided into separate walks.
www.theriverayrway.org
---
The Isle of Arran, Scotland is one of the most southerly Scottish island and sits in the Firth of Clyde between Ayrshire and Kintyre. Arran is 19 miles long by 10 miles wide but has a remarkable diversity of landscapes and seascapes. You can enjoy a day trip to the beautiful island of Arran which is highly visible from the Ayrshire coast. The ferry sails from Ardrossan Harbour at regular intervals throughout the day and the journey time takes about 55 minutes. Arran is considered to be the most beautiful island in Scotland.
www.visitarran.net
To book your ferry log on to www.calmac.co.uk
---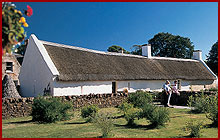 RABBIE BURNS' COTTAGE
Home of the "bard" and one of Ayrshire's most famous tourist attractions. Situated in Alloway just outside of Ayr visitors can get a tour round the cottage and experience what living conditions were like for Rabbie Burns all those years ago. After visiting the cottage why not take a walk along the banks of the bonnie river Doon.